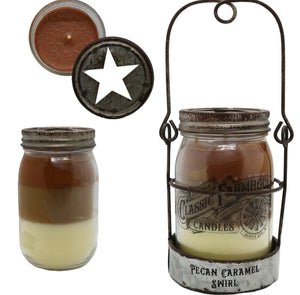 Pecan Caramel Swirl 14 oz Star Jar Candle
Rich, invigorating aroma's of nutty caramel pecans, creamy butter, freshly ground cinnamon, spicy nutmeg swirled with caramelized brown sugar and sweet undertones of smooth vanilla caramel.
Farmhouse Chic candle with galvanizes star cutout lid and a metal holder. The candle is hand poured in the USA.